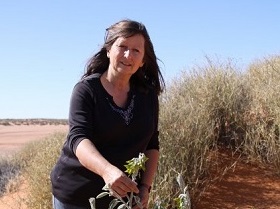 For Admission
The Outback Pride Project is promoting the Australian native food industry by developing a network of production sites within traditional Aboriginals communities.
The cultivation of Australian native food provides indigenous Australians with jobs and training in horticulture and the food industry. In this way, the project also acknowledges the intellectual property of the traditional uses of bush foods.
Mike and Gayle Quarmby have spent more than a decade developing bush food co-operative 'Outback Pride'
El proyecto « The Outback Pride » promueve el comercio de ingredientes nativos australianos mediante el desarrollo de una red de centros de producción al interior de las comunidades aborígenes.
El cultivo de ingredientes endémicos australianos ofrece a los aborígenes empleo y formación en horticultura e industria agroalimentaria. De este modo, el proyecto reconoce igualmente la propiedad intelectual de las utilizaciones ancestrales de los alimentos del bush australiano.
Mike y Gayle Quarmby desarollan desde hace mas de 10 años la cooperativa « Outback Pride ».